Our first Camping Trip, June, 2007!

The Pinery Provincial Park, Grand Bend Ontario:

The Brantford Homeschool Connection has twice annual camping trips to the Pinery and this year, we went for the first time. Wesley, Sarah and I went up, Sunday June 17 and actually found another family on their way up, as we just got past Woodstock. Was nice to follow someone who knew where they were going. Even moreso, once we got to the park! The park roads weren't on my map and it's a big place! :-D

The drive was good. We brought the Game Cube for making the drive a little easier, especially for Wesley. MP3 Players go a long ways, too! Sunday was nice. We camped right across a from a boardwalk to the beach. THAT was handy! The dunes make for a great workout, but the boardwalk is good for when the dunes become a little bit much. We were out at the beach and noticed some dark clouds over the lake. I thought they looked really neat, lol, but not everyone agreed! Some like their sunshine uninhibited, I guess! especially when it's still so early in the swimming in the lake season.

As we were enjoying the beach, the dark clouds moved closer and closer and we realized, they were extremely low clouds - as in black fog! It was very unusual - for most of us, anyway. We could see it sweep in closer and closer, even on either side of us, then right where we were, too. It was such thick fog that it just blocked out the sunlight, making it seem black. It made the beach a little chilly, even! After supper, we came back and the fog was clearing a bit and I'd carried my bagpipes down to the beach and played a few songs for the other homeschoolers at sunset. The fog was still there enough that it was really quite amazing. We mostly had the beach to ourselves at that point, too - was great!

At the end of the day, the kids were playing and the adults had for the first time, a wine tasting. Seems every family that was there, that particular weekend, makes their own wine. I found out about the proposed winetasting, about two and a half weeks before hand, so I thought I'd give it a shot and see what I could have ready in that amount of time. I found a recipe online and made about 3L of white wine, around June 1. It wasn't quite ready for the weekend, but everyone tried it anyway, and it was given full credit as having "great potential". They'd actually like to try it again, in September, but um, well, it didn't last that long! ooops!

Soon after the winetasting, we hit the hay. Actually, I should have brought some hay. I was going to bring the memory foam pad off my bed, but forgot. The Pinery may be all sand, but the ground was still plenty hard where we pitched the tent. Everytime I thought I fell asleep, I'd wake up with either a numb arm or numb legs. :-p Then I was chilly. Then I'd hear racoons 'talking' and almost quarrelling, not too far away. Then Wesley started getting a little stuffed up. By 4am, he was awake and I had no chance for sleep. I had to go to the washroom and asked if he'd come too. We jumped in the van and drove, so as not to have to walk in the dark, though we weren't far from the washroom, anyway.

Got to the washroom and as we were driving back, I asked Wes if he thought he might sleep better in the van. He thought he could, so he asked if I'd get his pillow and sleeping bag. Sure, no problem, right? lol there has to be a catch! I got out of the van and walked behind it, just to have a racoon race, practically across my feet, and under the van. There was another one, chattering in the tree, not too far from me. I was surrounded! lol

ok, reality check, here. I grew up in the days of rabies being BAD all around where I lived. Apparently we had the worst in ALL the world. Trust nothing that wasn't proven to be vaccinated and even then, be wary. AND any raccoon I'd ever met around here, has to fight for food, shelter and territory. DO NOT MESS WITH THEM!!! I even knew someone who was hospitalized because a "pet" raccoon bit her and she got really sick! I have NO experience with these semi-tame critters that live in provincial parks! Now, you understand where I'm coming from??? lol :-) Not only that, but I do NOT see well in the dark, at all!

ok, so I was surrounded! Somehow, my trusty dollar store flashlight and battery weren't really armourment enough. PRAYER! and yes, a little bit of panic! I jump at our tent, unzip as if my life depends upon speed and accuracy, grab Wes' gear and try to gently hollar at Wes to open the van, quick, there's raccoons everywhere! So, he opens the van, I throw his stuff at him and he slams the door shut as fast as he can. I dropped my flashlight! At that point in time, I was starting to feel a little overwhelmed. (yes, two raccons! - and yes, I can laugh at myself, now, in hindsight!) :-D

I let out a little cry of panic and then, just as quick and slightly quieter, a "sorry, everyone!", grabbed the flashlight off the ground and jumpped into my tent. Sarah moans from her tent, right beside mine, "Will you two be quiet!!!" (yes, mom!) "Sorry, Sarah, there's racoons everywhere!, good night!" lol I call out to Wes. He can't hear me. He tries to open a window. They're electric. I have the keys. He started to seem to try to open the front passenger door - which is broken - he can't do that! I have to get his attention. I finally get him to open the side door windows, which have manual latches on them.

"Wes... are you ok?"...

(very quietly...) "ya"

"OK, good night"

"Good night" and then a brief pause and then he recites his nightly prayer.

Sarah: "will you two be quiet and go to sleep?"

"Sorry, good night"

"Whatever" (teenagers! lol)

Then Wes, "mom, I'm scared"

"Nothing can hurt you in the van, Wes, go to sleep"

"OK, good night"

"Good night" lol, and I so badly wanted to be in the van, with him! At least he was safe! ;-D

I had a cardboard box in the tent - brought Wesley's blanket up in it. I opened it up, flat and put it under my sleeping bag. Helped a little, I could at least close my eyes and be a little more comfortable. Then... yup, the Whip-poor-will started calling. Fascinating! I may have heard a couple of them, but one in particular, I could hear it moving about as it was calling and it even seemed at one point, to get as close as our own campsite! It moved around a lot and was just amazing to listen to. Then, yup, the morning songbirds started chirping! lol what sleep?! I think I did eventually nod off for a bit! I so needed it!

(day two and three to follow)...
Our Trip to Saskatchewan, Saskatoon - March, 2006
Monday, March 20, we set out to leave just before 11 am, in hopes of being in Napoleon, Ohio for about 5pm - way earlier in the evening than our last trip, out! No flat tires, this time!!! Another thing that was different - we came through the tunnel from Detroit to Windsor, instead of across the Ambassador Bridge. The kids thought that was great! except we COULD NOT find the interstate we needed - there's no signs to point out directions like there are from the bridge. Seemed we drove around Detroit for about an hour, getting nowhere, fast.
We did finally find our way, get some gas and we were off and running! Despite that delay, and the fact that we missed our turn-off for Napoleon (was it marked? we didn't see it!), we did still manage to get to Deb & Ken's, pretty much on time. Had a good supper with them and headed off for 'the west'. We stopped at the local Walmart for a bit, and had some fun, there, then got about an hour away from Napoleon and spent the night at a Ramada Inn in some tiny little place called Holiday City. It's an intersection, a gas station and about 5 hotels! lol Hey, our hotel was cheap! and had a pool! what else mattered?! Had a good night, there. :-)
MapQuest to Detroit-Windsor Tunnel
Mapquest Tunnel to Napoleon, OH
Mapquest Napoleon, OH to Holiday City, OH
wikipedia.org - Holiday City, Ohio
Tuesday, March 21: left Holiday City, bright and early - there's a lot of miles between there and our next stop, Jordan, Minnesota. A lot of the trip goes through Wisconsin, too, and Steve's not allowed to drive, there with a beginner's permit and no driver's ed enrollment. Between that little detail and all the busy traffic, I did all the driving up to this point. It became a very long drive. We had supper, just before St. Paul and ended up arriving for a quick visit in Jordan, before moving on to Shakopee. At Shakopee, we stayed at the Holiday Inn Express and it was sooo nice, we decided to stay an extra day. Nice pool, hot tub, wonderful management/owners? Great staff, anyway!
Mapquest: Holiday City, OH to Jordan MN Post Office
Mapquest: Jordan, MN to Holiday Inn Express, Shakopee, MN
Holiday Inn Express, Shakopee MN
Wednesday, March 22: a great day of R&R in the pool, in the hot tub, catching up on the computer - with high-speed access!!! I also did some of my work while the kids slept or swam and Steve got extra Xbox time! lol Oh and to end a wonderful day, we had supper at a huge Chinese food Buffet with Rachel, Bryant and kids. Was soooo good! and huge!
Thurday, March 23: Drove all day and only made it as far as Gladstone, Manitoba. Spent the night there. AND! we saw a moose! waiting to cross the I-29! yikes! Apparently, he made it across, alright. We saw a state trooper, just up the road a bit, at a rest area, and I'm sure he would have responded if there was an accident five minutes down the highway.
Mapquest: Shakopee, MN to Gladstone, MB
We stayed at the Welcome Stop Motel.
Friday, March 24: Drove all day and finally arrived at the Radisson about 5 pm. Was nice to have pool, hot tub and waterslides waiting for us! :-D For supper, I walked down the street and got some Chinese food! Was afraid to drive anywhere - we had a bit of trouble just finding the hotel to begin with!
Mapquest: Gladstone, MB to the Radisson Hotel, Saskatoon
Saturday, March 25: The big day has arrived! Started out, went to the hot tub, first, then off to the laundromat, the grocery store and the drug store. Came back to the hotel with two garbage bags full of clean clothes!, some food and some antihisamine for Wesley - he'd had a bit of a rough night. More pool, hot tub and waterslides!
Then, the wedding! It was sooo beautiful! Perfect, really! :-D
Stopped at Subway, after, to get a bite to eat - for myself - no one else was hungry?! Then, back to the hotel - more water fun, then off to the reception.
The reception was fun, the meal was wonderful, the company - fabulous! and the dance was a riot! (a good riot, that is!) :-D
Was rather handy that the reception was also at the Radisson - the kids could go off to the room or the waterplay area, whenever they needed a change of scenery. Perfect! and I didn't have to work too hard to find my way back, after! yay!
Sunday, March 26: Started the day with more hot tub, then found mom, Janine and Carolyn and had some devotional time together. After that, we went to Lobacks' for brunch. Had a good turn-out there and was a great time for meeting more of the new family and friends. :-)
After that, Chris came back to the hotel to Xbox with Steve while the kids and I spent some more time at the waterplay area. Then, back to Loback's for more food and gift opening! and more social time. What a great time we had! :-D
Monday, March 27: Started the day with some more hot tub, more family devotionals, yummy breakfast at the Radisson - I had a fruit cup at first, then later had Bison Hash with Saskatoon Berries! Like a beef stew/soup - very incredibly yummy! Then, the kids and I packed up, checked out by noon (ish) lol. I had to go back to the room to get the present that Wesley got his dad - a wolf magnet - was afraid to put it anywhere - magnets are downright dangerous near cd's, bank and credit cards and even those room key cards! and I was running out of hands and just plain forgot it by the door. The hotel staff were super wonderful and understanding. :-)
I also called Joe, just before we left, so it was almost 2 by the time we left. We stopped at Bethune, Saskatchewan. Took some pictures, got some gas, talked to a guy from the museum. Learned that they really don't know how the town got it's name and also that the grain elevators no longer say 'Bethune' on them and that they are closed and may possibly be demolished, soon. :-(
We also stopped in Regina and visited a bit with Aimee, Brian and family! yay! It's been so long since I've seen any of them - first time to ever see the younger children! :*-) Had a great visit, but way too short. Look forward to seeing them (and all my family!) again, hopefully soon! Canada is just sooo big! and the prairies so far away!
Finally, made it to Brandon, Manitoba., where we spent the night.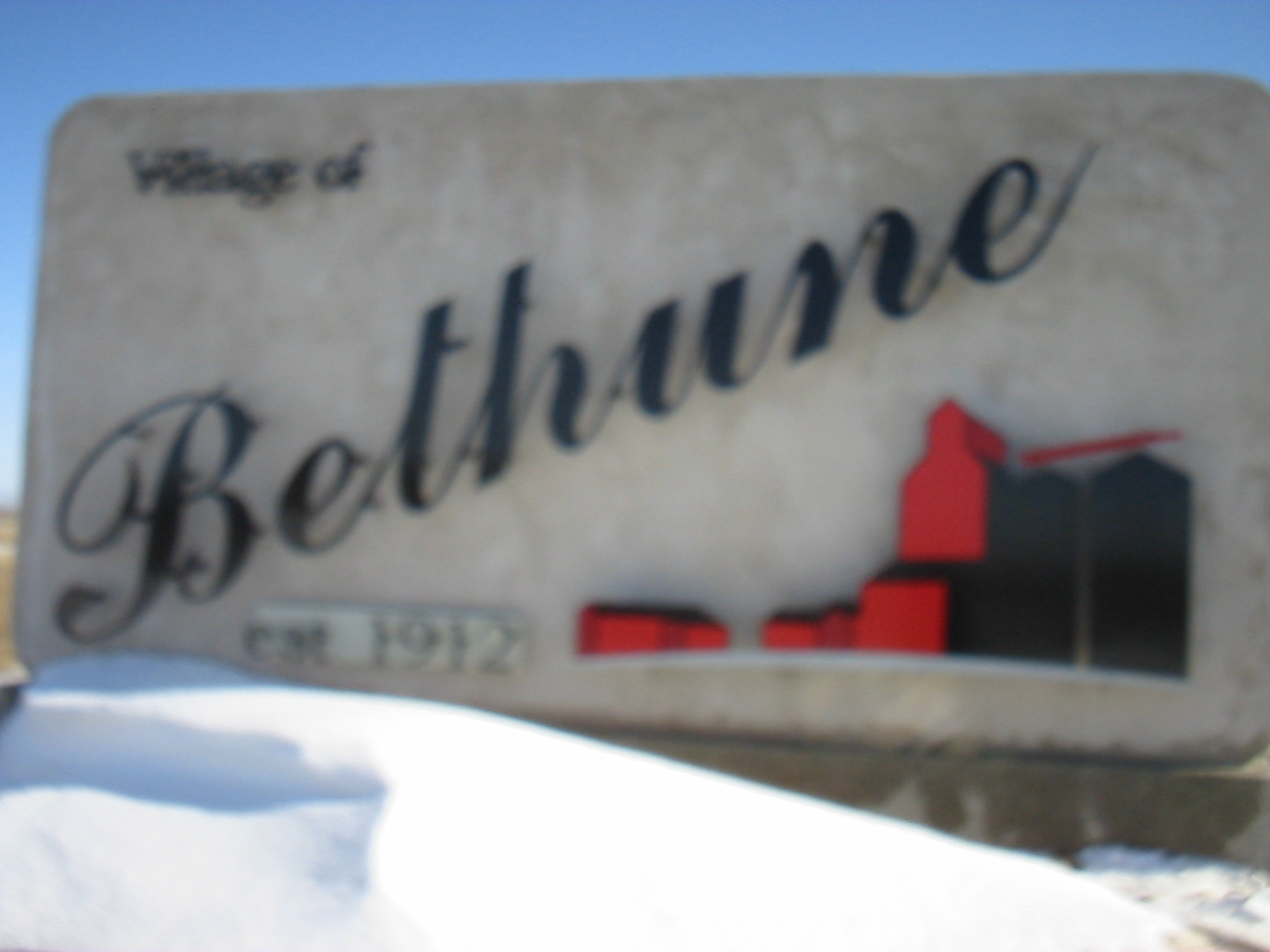 Mapquest: The Radisson to the Midway!
We stayed at the Midway Motel.
Tuesday, March 28: Drove all day to Kakabeka Falls, just west of Thunder Bay. We did travel through the States a bit to get there - basically followed highway 11 through. Just as we were pulling up to the American border customs office, a giant bird of prey took off from the side of the road, just in front of the van! The best we can figure is it's a golden eagle! Bigger than a turkey vulture, and even bigger than a bald eagle! it was huge and wonderful to see!
Mapquest: Brandon, MB to Warroad, MN
great quesadillas - M&K Takeout!
Mapquest: Warroad, MN to Kakabeka Falls, ON
yes, this is the bird we saw! :-D golden eagle!
Where we stayed... Kakabeka Motor Hotel
Wednesday, March 29: Sarah and I got up sufficiently early to enjoy breakfast at the hotel restaurant. Yummmy! I had the two egg special and it was wayyyy too much food for one person - and soo cheap! $4 for two eggs, three sausages, a good plate-full of home-made hashbrown potatoes and I chose Rye toast with mine. wow! ended up being my breakfast and lunch! plus I helped the kids with theirs, too! lol
Drove straight through to 3:30 am, Thursday morning and finally got to get some sleep in our own beds, again! Steve did about 9 hours of that driving! and did a fine job at that! Made a huge difference, too, I'm sure.
"Where It All Began"
White River, Ontario
Mapquest: Kakabeka Falls, ON to Parry Sound, ON
Mapquest: Parry Sound, ON to Waterford, ON
(thanks for checking out our travels! We did see many wonderful things that I still would like to post, so be sure to check back, occasionally, to see the updates!)

Special thanks to all the wonderful people who helped make this trip possible - Trevor and Angie, for giving us a reason to go! Thank you, Steven for helping with the driving and thanks to all three of my kids for doing such a good job at trying to get along.

I also again want to thank Joe, my mom and dad, Joe's mom and dad, Debbie and Ken and family, Bryant and Rachel and family, Janine and family, Dwight and Janet and family, the staff and management of all the places where we stayed and/or ate and I really and truly hope I didn't miss anyone! Last but not least, I am still, forever and again thankful for the Lord granting us His loving protection and for the provisions necessary for our trip!
Our trip to Rosebud, Alberta - July 2005
July 17th - As soon as Wesley was done playing a Lacrosse Tournament, we were basically ready to go! We had hoped to get out the door by 1pm at the latest, but with a delay in the game, it ended up being more like 2pm. Even so, we still managed to get to the Ambassador Bridge in Windsor, just within the timeframe we had planned for. The line-up was long, but we finally got through.
We just could NOT understand what was wrong with the American roads, though. I'd never remembered them being so bumpy. I started to realize, though, that people were watching us go by, and that I needed to check the van before getting on the freeway. Sure enough, we had a very flat tire.
We tried to get the tire off, ourselves and with no success, we ended up calling for a tow truck - not for a tow, just for some help with the tire. $45 US later, we were off and running - on the doughnut tire! Down the freeway!!! Of course, we didn't go the full 120 kph that we were allowed to do, and we were all on full watch for road hazzards that I was not to hit!
Interestingly enough, too, the tow truck driver was curious as to why we did not get straight on the freeway, from the Ambassador Bridge. I told him, that was the way the Customs Agent sent us - so glad she did!
Thankfully, we managed to get to our first stop - Napoleon, Ohio, on the doughnut. We were at least three hours behind our planned 8pm arrival, but were so very happy that our hosts had decided to wait for us, anyway! Thanks again, Debbie and Ken!!! You helped make a rough day so much better! :-D
By the way, it doesn't even take a full day of travel to make a seven-year-old want to turn around and go back home.
Mapquest results: Brantford, ON to Napoleon, OH (includes map!)
July 18 - had a short, yet good sleep and then Debbie had to go to work, so I followed her to the local Walmart and waited for the tire department to open. Finally got a new tire, installed and everything and we were off and running by 11 am - was hoping for 9 am, but sooner or later, we're going to see a 2-hour pattern in this trip!
We were hoping to be in Jordan, Minnesota for 8 pm, but our two-hour delay in taking off meant a two-hour delay in arriving, right? Not so! We also got into an "only two more hours" mode - about 8 hours before we arrived. Wait, it was only supposed to be an 8-hour journey! Ooops, no, an 11-hour journey! We got there about 2am and yes, they waited up for us! Thanks again, Rachel and Bryant!
Mapquest results: Napoleon, OH to Jordan MN Post Office (including map!)
Mapquest results: Jordan, Minnesota
July 19 - Just too tired to go on and no clue how far I could go, we ended up staying the day (and an extra night) at Rachel and Bryant's. So glad we did. The kids had a blast, and so did Rachel and I!!! Bryant asked me how far I might go, and I wasn't even sure if I'd make it back to Minneapolis that night. Was just so tired. The extra day and night stop-over was just what was needed to be able to carry on!
clothetc.com - Rachel's cloth diaper business - you just have to check it out - her diapers are works of art!
July 20 - all fresh and ready to go, and we started off with a box of ice cream sandwiches from the milk man - Tony! They were sooooo good! Took off around 8:30 (I think it was) and it was like I had a whole new burst of energy as soon as I got in the van. We made it all the way to Weyburn, Saskatchewan!!! It was right around midnight when we pulled in there.
Mapquest results: Jordan, MN Post Office to Weyburn, SK
July 21 - had a great sleep and an incredible breakfast - and were soon on our way! Finally got to Medicine Hat only to find out we still had a long way to go. We did finally get to Rosebud at around 6pm - I think. There was a whole lot more of that 'just two more hours' syndrome, but we did finally get there. What a long trip - but so worth it!
Mapquest results: Weyburn, SK to Rosebud, AB
Picture of Mac the Moose - Moose Jaw, SK
Picture of the Saamis Teepee, Medicine Hat, AB
Rosebud Theatre - what this town is all about!
July 22 - a busy day of setting up for the wedding and reception and for me - practicing my bagpipes whenever possible. With the theatre busy with "Village of Idiots", I couldn't just practice outdoors - so I made very good use of the community centre washroom - down in the basement! Hey, whatever works!
July 23 - THE BIG DAY - What a gorgeous day it was! Every thing was perfect! What more can I say? Oh, and to top it off, we went and discovered That's Crafty, and their world famous cinnamon buns, in between wedding and reception.
July 24 - Practiced my pipes again, every chance I got, as well as clean-up in the reception hall. Then, off to Vince's parents' farm for a barbecue and for the newly-weds to open their wedding presents. That's when I was supposed to play Mairi's Wedding and oh, well, how many lessons can one handle in a day?
First off, Sam wanted me to march with it. Ha ha ha! Turns out, if you've never marched and played before, in front of an audience is not the time or place to learn! If that wasn't bad enough, that glorious Alberta wind caught my breath and I was done like dinner.
OK, so as Janine said, "the wedding song was a bit rough". I'm so glad everyone there still loves me! I did manage to somewhat redeem myself with a simple rendition of Amazing Grace, which was said to be "beautiful"! (whew!)
July 25 - We went on a scenic tour of Drumheller. Janine is a great tour guide! We saw and experienced Horseshoe Canyon on the way to Drum. Amazing! Then, we went to the Passion Play site and Angie was our tour guide, there! Like mother, like daughter! Angie was telling us how amazing the natural accoustics are there, and even demonstrated for us! You just can't believe it until you experience it!
Our next stop was at the giant dinosaur. We all went in the souvenir shop and the kids climbed up to the top of the dinosaur and waved to us, both on the video camera and outside.
From there, we went to the Dinosaur Museum. Time and exhaustion were working against us, so we simply enjoyed the outdoor displays and didn't bother go through the museum. We did go into the gift shop, though! The little dinosaur flashlight Wes bought was rather handy! and Sarah's mood ring was fun!
Our next stop, after grabbing some snacks, was the suspended bridge. Very cool. Next, we checked out the rail road bridges. There's a lot of them! And finally, we got to see the Hoodoos. They are soooo cool. One of the natural wonders of the world. I just hope I got all of those last stops in the right order! ;-) Do be sure to check out the links!
If you ever get the chance, Angie's "James" is well worth seeing. She hopes to get a website going, soon, and in the mean-time, perhaps I can get and post her itinerary! ;-)
July 26 - mostly a day of recovery, and oh, how nice it was! Did some basics - laundry and dishes and spent some time watching movies with some favourite cousins!!! :-) Phantom of the Opera was really good!
July 27 - The 'time to go home' bug was finally setting in, but I really wanted the kids to have a chance to see the mountains. We hopped in the van, with Chris driving, and took off for a day trip to the edge of Canmore. We stopped in at Peter's Drive In, in Calgary, for some of the ultimate in take-out. We also saw the American Solar Challenge cars!
As we got closer to Canmore, the two younger kids got out at a lake and got their feet wet. Seems to me, those mountain lakes are pretty cold! Steve saw a lot of Bald Eagles that day, too! One thing we realized is that there's not much snow on the mountains, this far south, anyway, in July. They were still beautiful, nonetheless, and the trip was very worth-while!
Mapquest results: Rosebud, AB to Canmore, AB
Some pics from the American Solar Challenge site
July 28 - This was it, the time to come home had finally arrived! We had to go back, one more time, to That's Crafty, to get a few more cinnemon buns! Did that and said our goodbyes and off we went. Spent the night in Grenfell, SK.
Mapquest Search: Rosebud, AB to Grenfell, SK
July 29 - the day that never ended - almost. We drove and drove and drove and drove. There was no end to the road. We started looking for a hotel around midnight. While we were looking, we did see some pretty interesting glimpses of nightlife. Along the highway, we saw a deer, here and there - maybe about five or six in total, and each one was standing along the side of the road, right where the grass met the shoulder. Could only hope each stayed where it was, until we had gone by, and sure enough, they did! Finally, around 4 am, with no place to stay, we slept that night in the van at a rest stop in Hurley, WI.
Mapquest Search, Part A: Grenfell, SK to Piney, MB
Mapquest Results, Part B: Piney, MB to Hurley, WI - not quite the way we went, but will have to do for now
July 30 - I woke up once around 6am, I think, and fell asleep again. Woke up again, this time, I think around 8am and started driving. The kids kept sleeping for a couple more hours! I even managed to get some gas and groceries before they woke up. When they did finally wake up, we were well on our way home! We even stopped so the two younger kids could spend a bit of time swimming in Lake Michigan! Finally, around midnight, we arrived HOME!!! It was a long trip, it was a good trip, but as they say, be it ever so humble, there's no place like home!
(thanks for checking out our travels! We did see many wonderful things that I still would like to post, so be sure to check back, occasionally, to see the updates!)
Special thanks to all the wonderful people who helped make this trip possible - Sam and Vince, for giving us a reason to go!, Joe, my mom and dad, Joe's mom and dad, the tow truck driver, Debbie and Ken and family, Bryant and Rachel and family, Tony the milkman, Janine and family, Hans and Alice and family, and I really and truly hope I didn't miss anyone! Thanks, Kelly, for putting up with us in the trailer - it was nice spending the time together! Last but not least. I am thankful for the Lord granting us His loving protection and for the provisions necessary for our trip!